Saipan Intl. Airport | Port of Saipan | Tinian Intl. Airport | Port of Tinian | Rota Intl. Airport | Rota West Harbor
Port of Tinian
News
Public Notice
DOT Tarmac Delay Emergency Contingency Plans
CPA Directory and Departments
Business Opportunities
Employment
Administrative Rules / Forms
Aircraft Rescue & Firefighting
Pacific Region ARFF Training Center
Ports Police
Financial Reports
Citizen Centric Report
Contact Us

© 2023 Commonwealth Ports Authority.
All rights reserved.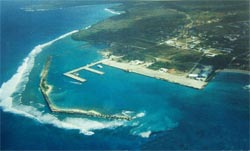 Tinian Harbor
There is one stevedoring company available at the Tinian harbor
A fuel bulk plant operated by Mobil Oil.
Three finger piers available for berthing
Small boat ramp
CPA is working on installation a seawater firefighting system, replacement of their perimeter fencing and update of the harbor master plan.
In addition, CPA has leased a portion of its harbor to Bridge Investment Group who will be building a hotel that replicates the Titanic. This should be completed in two years.