Pacific Region Aircraft Rescue & Fire Fighting Training Center

Welcome
Welcome to the Pacific Region ARFF Training Center (PRATC). Over the years, we have provided training to fire service personnel from the islands in the Western Pacific Region including Guam, the Republic of Palau, the Republic of the Marshal Islands and the Federated States of Micronesia consisting of Yap, Chuuk, Pohnpei and Kosrae.
PRATC, located on the beautiful island of Saipan, Commonwealth of the Northern Mariana Islands, is the newest training institution in the Western Pacific Region with one of the finest emergency response training programs in the world.
PRATC was created to train all airport firefighters throughout Micronesia. Since opening, we have trained an excess of 150 fire personnel annually.
Scheduled training courses meet all training requirements in accordance with National Fire Protection Association (NFPA), FAA Regulation Part 139, and ICAO regulations. Special classes tailored to meet your specific training needs are available upon request. Furthermore, class schedules can also be made flexible to meet your busy schedule to include out-reach and training programs at on-site locations.
In addition to our basic firefighting and basic aircraft rescue courses, we also offer fire leadership, emergency medical services, hazardous materials and weapons of mass destruction response courses.
PRATC's new modern classroom facility can accommodate up to 30 fire fighters comfortably. In addition to this, our center offers practical hands-on training at our new EPA and FAA approved state-of-the-art Live-Fire Training Facility. It features a large frame (Index E) aircraft mock-up in a 17,980 square feet bin area, allowing instructors to simulate any aircraft firefighting scenario. The aircraft mock-up utilizes hydrocarbon fuel, creating the most realistic training conditions possible for our Firefighters.
We are setting a new standard of excellence in firefighting service in this region with our new Pacific Region ARFF Training Center. And we are ready to deliver first-class training to your firefighters.
The Pacific Region ARFF Training Center (PRATC) is fully certified by the National Board on Fire Service Professional Qualifications Committee on Accreditation to train and certify all airport firefighters throughout the Micronesian Islands to provide unparalleled emergency response and fire prevention to the protect people, facilities and the Commonwealth and Micronesian communities from the adverse effect of fire, release of hazardous material, aviation and industrial injuries and to ensure the protection of life and property throughout effective and efficient delivery of professional aircraft fire rescue and emergency medical services.
Part 139.319(i) of Federal Aviation Regulations requires that all Operators of Part 139 airports be properly trained to provide aircraft rescue and firefighting services during air carrier operations that require a Part 139 certificate.
PRATC offers an ongoing program and curricula using the most up-to-date methods meeting NFPA and FAA national standards, standards required by the National Professional Qualifications System (NPQS), the National Board on Fire Service Professional Qualifications Accreditation (NFPA), the National Fire Academy (NFA), standards set by the International Civil Aviation Organization (ICAO) for Aerodromes, ARFF accreditation criteria as well as OSHA regulations.
Mission Statement
Provide excellent Aircraft Rescue & Fire Fighting training to fire service personnel within our local and western pacific island region meeting FAA and NFPA training standards. And to deploy these services in a responsive and costs effective manner.
Training Facility
Meets FAR Part 139 and ICAO ARFF training requirements
AIRCRAFT MOCKUP: 85 feet by 16 feet in diameter
Provides realistic and hands-on control and extinguishing of live fuel fires from aircraft
Participants utilize actual firefighting equipment and vehicles
Accreditation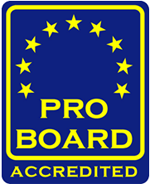 National Board On Fire Service Professional Qualifications Accreditation
On July 22, 2005, the Saipan International Airport, Commonwealth Ports Authority was awarded accreditation by the Pro-Board Committee on Accreditation to certify fire and emergency personnel, upon successful completion of training, in accordance with the criteria established by the National Board on Fire Service Professional Qualifications also known as the Pro-Board.
| | |
| --- | --- |
| Skill Level | NFPA Standard |
| Airport Firefighter | NFPA 1003 |
| Firefighter I & II | NFPA 1001 |
| ARFF Driver/Operator | NFPA1002 |
| Fire Officer I & II | NFPA 1021 |
| Fire Instructor I & II | NFPA 1041 |
| Fire Inspector I & II | NFPA 1031 |
| Hazardous Materials | NFPA 402 |
| -Awareness | |
| -Operations | |
| -Technician | |
| -Incident Command | |
See Certification Program document for program and policy.